Email me at:
susan at brazosriver dot com

---
Dandy Links
---

Old Stuff

December, 2006
January, 2007
---
And a big
thanks to
---
Campaign finance reports

If you'd like to make a comment, email it to me at
susan-at-brazosriver-dot-com
Email comments are in the blue boxes.

January 30 - Rats! Just when I went out of the beauty shop business, there's money to be made ....

Chardonnay and cheese are no longer enough to draw a Capitol crowd to receptions hosted by trade associations or their lobbyists.

Tonight at the Four Seasons Hotel, the "ladies of the Legislature," as the invitation from Texans for Lawsuit Reform refers to them, will be offered mini-massages (feet, hands and necks only), manicures and pedicures, along with "food and cocktails galore" at the tort reform group's "girls' night out."

Check out the invite!
I don't know about you but I'm rsvp-ing because there's no possible way they could know I'm not a staffer.
On the other hand, I'd have to be in the same room with with members of the Lege.
Nah, forget it.

---

January 30 - It's Tom DeLay day here at KissMyBigBlueButt, an almost weekly event because Tom DeLay set the benchmark for slimy politicians.
First up, apparently the mishaps of Tom DeLay had no effect on Texas legislators.




Liquor wholesalers ply legislators with cash

They've donated $1.7M in bid to sell direct to restaurants, bars; package stores worried

AUSTIN – Liquor wholesalers dumped nearly $1.7 million on Texas lawmakers in the weeks leading up to the 2007 Legislature while pushing for changes that would allow them to sell booze directly to restaurants and bars.

And, in a second-cousin related by slime story, DeLay crawled across NASA.

WASHINGTON — NASA administrator Michael Griffin got a sharp reprimand from a federal watchdog today for comments that could have been interpreted as a political endorsement of embattled lawmaker Tom DeLay in Houston last March.

"We were concerned about the appearance that this was an endorsement of Tom DeLay by Mr. Griffin acting in his official capacity in Houston, very close to (DeLay's) district," Special Counsel Scott Bloch told the Chronicle.

"We are not releasing the letter sent to Mr. Griffin, but it was sternly worded," Bloch said.

Oh no, not the sternly worded letter! Anything but the sternly worded letter! Ewwww-oooowww, that hurts! You can get a paper cut from a sternly worded letter.

---

January 29 - Okay, here's the deal. I will personally pay the filing fee for somebody with a lick of sense to run against my county commissioner, Tom Stavinoha.
I have come to the conclusion that Tom Stavinoha entering a room is the same and eight good men leaving.
Not so much because he went off to Hawaii on county money to offer his expertise to other commissioners on the Help America Vote Act. (Remember he's the guy who told me he selected those idiotic machines we use to vote because it had "dials" on it and he's used to dials because he taught high school shop for 20 years. Hey, Tom, It's the Help AMERICA Vote Act, not the Help TOM Vote Act, dumbguy.)
And not so much because he left his constituents in a trail of dust, literally, on the landfill.
And not even because he's known as "Ticket-man," because he pesters all the county vendors to give him free tickets to baseball games and the rodeo.
There are hundreds of reasons why this guy has to go. But, the one that's got me all sideways this morning is his "newsletter." Click here to open it in PDF format.
Oh yeah, I've got pictures. I mean, you've just got to get yourself a copy. I do not know what language Commissioner Stavinoha speaks and writes, but it ain't English. It's a blessing that he taught shop instead of literature.
You really need to open the pdf file and see it full-sized in expensive color. I cannot believe that several trees died for this. It's as worthless as a canceled stamp.
I don't see any political expenditures for this, so that means Tom's favorite moneybags paid for it – you!
What a crock of crumbs.
Well, Susan, here's the problem with running against Mr. Stavinoha. You might win. Then what? You have to deal with all those other nincompoops sitting in the big chairs. Not to mention the high level of intelligence that abounds in all areas of county government. It could drive a good woman to drink....oh yea, it did.

lifting my glass to your optimism.......Cheryl

---

Dear Susan,

Re: Commissioner Stavinoha's Newsletter

Not only do Texans talk funny, they write funny too.

Jay Bee in Dee Cee
---

January 29 - Okay, so I have called everybody I know in Washington Dee Cee and asked them to scamper over to the federal courthouse and get me a Scooter Libby trial tee-shirt or baseball cap or koozie or whatever.
I do not believe that they're not selling any. I think my Washington Dee Cee friends lie. Surely someone is selling memorabilia. I mean, a tee-shirt with "Talk dirty to me, Scooter" printed on the front would certainly be something I'd want in my wardrobe.
And to you Fox News viewers who ended up here by mistake because you're either drunk or lost: there's a trial going on in Washington. It appears that some members of the President's team have been fibbing. Oh, oh, oh, what will we tell the children?

---

January 29 - Today's Wall Street Journal (subscription only) has an article about the new ethics bill for Congress.
It seems that they cannot take meals from lobbyists, but they can eat free "hors d'oeuvres" (a French word meaning "not enough"). It's being called the toothpick rule.

To cut down on wining and dining by lobbyists, the House and Senate have drafted new rules that bar lawmakers and congressional aides from accepting almost any meals from lobbyists. Hors d'oeuvres are an exception. So is "food that you have to eat standing up using a toothpick," explains Washington lawyer Brett Kappel, who advises lobbyists and companies about ethics rules. Oyster pasta, the seafood lobbyists decided, would be difficult to eat with toothpicks.

Now, see, that would not be a problem in Texas, where everything we eat can be eaten standing up. Except we don't use toothpicks. We use our fingers like God intended.
Oyster pasta. What a horrible thing to do to perfectly good oysters. It's a good thing that we put a stop to that.

---

January 28 - If it's about butts and boobs, Charlie Howard is on it like white on rice.
State Representative Charlie Howard of Sugar Land, everybody's favorite greedy Republican, is making waves with his dirty talk in Austin again.
Charlie loves to talk dirty. Every session he introduces at least one bill that will allow him to give a speech with the words "breast, nude, or sexually" in it. He once introduced a bill against proper chicken labeling at KFC. Okay, so I made-up that last part, but it's something he'd do if I called and told him that people who liked wings were really ordering breasts just to get themselves excited.
This time it's billboards. HB880 (PDF format), Charlie's latest bill, cannot be read in front of children.

SECTION 2. Chapter 47, Business & Commerce Code, is amended by adding Section 47.005 to read as follows:

Sec. 47.005. SIGNS. (a) In this section:

(1) "Nude" means:

(A) entirely unclothed; or

(B) clothed in a manner that leaves uncovered or visible through less than fully opaque clothing any portion of the breasts below the top of the areola of the breasts, if the person is female, or any portion of the genitals or buttocks.

I can just hear ole Charlie, making genitals a four syllable word on the floor of the Texas House.
Charlie contends that outlawing these billboards "would mitigate the adverse secondary effects of sexually oriented businesses, improve traffic safety, limit harm to minors, reduce prostitution, crime, juvenile delinquency, and deterioration in property values, encourage neighborhood improvement efforts, bring about world peace and do away with the need for root canals." Okay, so I made-up the last two. But only the last two and you wouldn't have known if I hadn't have told you, huh?
Why, it's a miracle!, Brothers and Sisters No buttocks – no disease, war, hoodlums, or traffic jams.
And, by the way, who gets to decide where the buttocks actually stop and start? Charlie?


---

January 26 - Oh, I just love it when Republicans fight.

Land developer Will Perry has filed suit against Sugar Land Mayor David Wallace and two other former business partners, saying they're trying to collect on a fraudulent real estate commission contract.

Like I've always said, you cannot trust them when it comes to money.
I guess this means that Wallace won't be running for Congress.
Okay, okay, let's get serious here. Who to root for? Bob Perry's son or David Wallace, Young Prince of Sugar Land. Goodness sake, I'm embarrassing myself with delight.
Here's a copy of the lawsuit.

---

January 26 - Y'all all say a little prayer for Molly Ivins. She just went back to the hospital in her battle with breast cancer.

I'll post a link when I find one. Okay, here it is.

---

January 26 - And just when you thought he'd quiet down, Tom DeLay is out there advising again. First off, it's nice to know that he has pronounced Mormons to be actual human beings. Of Mitt Romney, DeLay says ---

Romney's Mormon faith, DeLay said, is not an issue for him.

"I know a lot of Mormons who are elected officials," DeLay said. "[Rep.] John Doolittle (R-Calif.) is one of my best friends … Usually when you find a Mormon politician, they're very conservative people. How that works in the body politic and the Bible Belt … how that's going to play, I just don't know."

And you gotta wonder how much it costs to get DeLay to endorse your opponent. Everything DeLay does has a price on it.

Despite the early politicking, DeLay is waiting to throw his support behind the "right" candidate, yet noted that Sen. Sam Brownback (R-Kan.) and former Arkansas Gov. Mike Huckabee are his "two personal favorites" in the field of GOP presidential contenders.

Poor guys. I wonder how much that cost Rudy Giuliani?

---

January 26 - Personal responsibility. Take some – it's free!
A bill has been introduced in the Texas House that makes the owner of a website responsible for material on that website. It's HB129. (It will open in PDF)

Sec. 73.0045. LIABILITY OF AUTHOR OF WEBSITE POSTING. (a) The author of a defamatory statement expressed on an Internet website is subject to a libel suit in the same manner as if the author had published the defamatory statement in any other written or graphic form.

Darned straight.

---

January 26 - Bless their hearts, politicians never keep their promises.

Pennsylvania Republican Don Sherwood, who lost his House seat last fall, is now refusing to pay his ex-mistress more than half of a $500,000 settlement he promised her to keep quiet about their affair, according to two people familiar with the situation.

The settlement ended a $5.5 million federal lawsuit in which the ex-mistress accused the married father of three of attacking her violently and repeatedly during a five-year relationship.

Ah, family values ..... maybe Sherwood will let you borrow his.

---

January 26 - Now you would think that politicians wouldn't take campaign contribution kickbacks from a corporation with a recent proven record for overbilling government entities.
And if you live in this county, you'd think wrong. Just check the commissioners' latest contribution reports – on the left side panel – and then ask them if they've investigated PBS&J for overcharging on the work they've done in this county.
No siree, our comish boys will take money in any way, shape or fashion.

The Justice Department said more than a dozen federal agencies were affected by the fraud, including the Army, Homeland Security and the Department of Interior.

PBS&J, which has had an auditor combing its books, previously disclosed that various state transportation agencies were overcharged as a result of the embezzlement.

The St. Petersburg Times reported on its website this month that PBS&J refunded $11 million to the Florida Department of Transportation.

---

January 25 - When it ain't your time, it just ain't your time.

A Missouri City woman was hospitalized early Thursday morning after surviving an explosion that destroyed her home, shaking the ground and rattling windows for blocks around.

Ann Patterson Smith, 68, is in the Southwest Memorial Hermann intensive care unit, but apparently is doing remarkably well. Her house, at 3403 Covey Trail in Quail Valley, was destroyed by fire after the blast, a Missouri City Police Department spokesman said.

"When we got there, it was gone," Missouri City Fire Department spokesman Lee Atchison said of the house. Police officers and a neighbor found Smith in the back yard of her property and called for an ambulance, he said.

Next time there's a thunderstorm, I'm standing next to Ann.

It's the first sunny day here in two weeks, so I be out in the backyard .... unless I think of something funny. I have hibiscus blooming - I love Texas.

---

January 24 - We can all take a little pride in the fact that this wasn't Shelley Sekula Gibbs, although it would have been had she won.

Following President Bush's State of the Union address Tuesday night, newly-elected Rep. Michele Bachmann (R-MN) displayed an "overly enthusiastic desire" to touch the Commander in Chief. A television station in Minneapolis noted that the freshman congresswoman "can't keep her hand off [the] president."

It's really worth watching the tape.

---

January 24 - You can bet your best pair of pink boots that it's coming.

He's probably already written his dedication speech. I've got the motto: You can't get to Booth without crossing Andy Meyers!

In a few years, a new toll bridge could cross the Brazos River, taking traffic from south University Boulevard in Sugar Land to Greatwood, or the tiny town of Booth.

[more stuff]

"It could be a back-door way to get to Greatwood," Precinct 3 Commissioner Andy Meyers said.

While City of Sugar Land officials have not wholeheartedly embraced the idea, Meyers said he has been told they would consider it.

It's been a while since commissioners named something after themselves, so Andy's gotta be figuring it's his turn.

---

January 24 - I'm not making this stuff up. I think Bob Hebert lies about things that don't really matter just to stay in practice.
It seems that Bev Carter (I will provide a link when she posts it on her website) called Bob Hebert about the $6,200 illegal campaign expenditure to his wife for bookkeeping services. At first Bob denied it was illegal but decided to call the Texas Ethics Commission himself, although ...

"A candidate or officeholder may not use political contributions to pay for personal services rendered by the candidate or officeholder or by the spouse..."

.....doesn't seem real overly technical to me. I could probably figure that out without a phone call.
So, he called Bev back and told her that, to his surprise, sure 'nuf, "the law had changed recently," and I was right.
Recently? Oh yeah, like back in the '70's. The TEC opinions go back as far as 1992, and I can prove right here that it was the law in at least 1992.
I guess it depends on what your definition of "recently" is, but it was long before Bob Hebert got elected to office.
I mean, why wouldn't you just say, "I didn't read the rules. I screwed up." Or even, "I forgot about that rule, but I re-read the rules and I won't do that again." Why would you say recent when it was before Elvis died?
And then to add a sideways lie to the straight one head on, he says, "he had promised his wife $100 a month for keeping his campaign accounts and since he had money left over this year, he just caught her up on several years when he had not paid her."
I don't know what promises Bob made to his wife, but if he told her that this was the first year he had money left over, he's sleeping in the doghouse tonight.

June, 2006 - he had $119,841 left over
December, 2005 - he had $137,794 left over
June, 2005 - he had $113,063 left over
December, 2004 - he had $62,803 left over`
June, 2004 - he had $78,020 left over
December, 2003 - he had $42,927 left over
June, 2003 - he had $16,683 left over.

I'd pull out his other reports to show that he's always had money left over to pay her, but I'd have to go upstairs and get the box out of the closet and then I'd start really looking at these reports and get hacked-off all over again and the only way it'd be worth it is if his wife hosed him down and set him in a draft for making her look greedy.
Hi Susan,

WTH if Bob Hebert can't understand a simple paragraph like this:


"

A candidate or officeholder may not use political contributions to pay for personal services rendered by the candidate or officeholder or by the spouse...",


how can he be a judge?? Doesn't he have to be able to READ?

Kathy

---

Susan,

Does Bob Hebert think he can take it with him? I think $100,00 a year in tax-free money must be more temptation than a man can handle. When he pays the money back to his campaign account, is he going to pay interest?

Hey Zeus

---

English Teachers Must HATE Politicians (at least when they speak)


"I guess it depends on what your definition of "recently" is..."

Do you happen to recall the term that pitiful excuse of judicial "Honor" used when he stated the amount of time he promised to wait before slipping himself another unwarranted salary increase?

"he had promised his wife $100 a month for keeping his campaign accounts and since he had money left over this year, he just caught her up on several years when he had not paid her."

Despite the illegal aspect(s) of this statement, if Herbert's Mrs. is really cookin'/keepin' his books well enough to warrant payment for services rendered, shouldn't she have known about "left over" funds years ago?

The man may give heaps of OP's$ to local charities, but Hebert's judicial Honorable seems to have absolutely NO relation to the most commonly inferred definition of the adjective honorable, which include the following:

guided by, or with a reputation for having, strong moral and ethical principles

worthy of or winning honor, respect, recognition, or glory

upright and moral in intent

Hebert seems merely to use the Honorable designation defined as "a title...to address a parliamentary colleague." Therefore, we'd best watch our wallets (and tax statements) while he's Honorably glad-handing us.

Luv Ya Blue Butt!


Ann
---

January 24 - This is something you don't see everyday - good news for people who've had relatives die.
County Judge Bob "Big Daddy Kickbacks" Hebert has decided that he won't robe-up to hear probate matters after all.
After bragging around town that he was gonna be a real judge and hear probate matters even though he didn't go to law school, Hebert suddenly up and changed his mind.
Hebert finally got around to reading the Code of Judicial Conduct. After consulting with the County Attorney's office (and probably remembering this), Hebert decided that the standards of behavior for a real judge are a smidgen too high for him.
Plus, unlike our District Attorneys office, the Commission on Judicial Conduct actually enforces the rules on politicians riding sidesaddle over the statutes.
Hebert wanted to hear probate cases because it would mean double-dipping pay for himself. He would get paid extra for hearing the probate cases while we were paying his administrative duties as county judge.
So, the taxpayers get a break, the real judges in the county are breathing a sigh of relief, and if you have a relative die you won't have to give a campaign contribution to get into court. Looks like we citizens won this round all 'round.
Take the robe off, Bob. You look like an idiot.

---

January 23 - With friends like Ted Nugent, you don't need Carole Keeton Strayhorn Rylander.
Ted Nugent, who is the only famous person Governor Rick Perry could get to his inauguration party, tells us that Perry talks some jack on the telephone when he thinks he has privacy.

In an extended interview with the Star-Telegram, Nugent said Perry called him over the weekend to express his support for the guitarist and the Confederate symbol emblazoned on a T-shirt that he wore at the Jan. 16 event.

Perry "called me to tell me, when they attack me for wearing the rebel flag, 'be sure you tell them that I, as governor, support the waving of the rebel flag at the Laredo airport, alongside with the American, Texas and Mexican flags, and tell them to drop dead.'"

I'm just glad that the Governor has a little friend. We have been worried that he's lonely up there in Austin.
For you people from foreign states, we real Texans do not fly the confederate flag. We have an assortment of historic and meaningful flags that we fly. Some of my favorites being ---

The Zavala Flag

and the ...

The Gonzales Flag

It is rare to see a confederate flag in Texas. In fact, our hero, Governor, Senator, and President of the Republic of Texas Sam Houston, refused to take an oath to the confederacy and retired from office instead.
So, if you see a confederate flag in Texas, it means that either Bubba from Georgia is passing through in his pick up to look for work in California, or some damn fool wants to pick a fight.
About rarely seeing the confederate flag in Texas: You ain't been to Vidor or Jasper in awhile, have you?

Regards,

Stan
---

January 22 - Okay, so I'm not saying that the Big Guy in Sky is trying to tell the people of Texas something, but …..

An ice formation inside a Morton, Texas, grocery store's freezer is prompting tears from people who see it and has apparently answered the prayers of some visitors, according to a Local 6 News report.

Morton Thrifty Foods employee Alma Avalos said when she went to the back she noticed that some drops of water from the ceiling had frozen.

As more and more people began to hear about the Virgin Mary, they started traveling in droves to see the ice.

You just gotta wonder about all these signs coming to Texas. First it was the laundry room floor in Wild Peach, now the freezer at Thrifty Foods in Morton.
At least the folks in Morton put out some flowers and lowered the price of corn dogs before they alerted the media.
I'm gonna check the dust bunnies under my bed. I'm pretty darned certain that at least one of them strongly resembles Ezekiel's' wheel.
Susan, hold the phone-religous signs in working class neighborhoods and dead birds on capitol in austin-sounds right to me-whachathink?

Karen

---

Please don't let your momma look too good at that ice thing. It look nasty to me but what would I know, I've never been to the freezer at Thrifty Foods.

Peg in New Mexico

---

I'm with Peg on this one. I didn't have to squint my eyes up to see the naughty thing, like I did when I was trying to make it our as the Virgin Mary.

Stephanie up in Arlington
---

January 22 - I just love how nice the Republicans have become since they're not able to be bullies anymore.
With Bush having the lowest approval rating since Nixon, all of a sudden the Republicans have found "nice."
It's expected that Bush's speech tomorrow night might get a chilly reception in the House, but Trent Lott has a fix for that: Democrats should not act like Republicans.

"I hope we won't be acting like children as we have been in recent years where one side jumps up and the other sits down and then the other side jumps up. How pathetic that is," said Lott.

Yeah, Trent, pathetic.
I recall watching a State if the Union address when Tom DeLay and Dick Armey actually made faces, elbowed each other, and giggled at Bill Clinton. The cat must have had Trent's tongue that day.
There is also a school of thought that Bush won't even show up tomorrow night. After all, he's the decider.
Hey Susan,

Isn't it amusing that the Republicans keep hoping that the Democrats don't do the things they did now that the Dems are in control. Talk about childish..you can't do that because we already did. The Democrats don't have to make fun of Dubya, he does a fine job of making a fool of himself.

Kathy
---

January 21 - Scraping the bottom of the barrel. The headline reads: Gingrich: 2008 run would be last resort

WASHINGTON - First, Newt Gingrich said he would run for president in 2008 only if no other Republican emerged as a clear front-runner. Now, the former House speaker says he will run only as a "last resort."

Yeah, well, thank you Newt for expressing my sentiments exactly.

---

January 20 - UPDATE: Never mind. The thread has been shut down. I tend to do that to conversations. Sorry.
I've got some stuff to do this weekend, but I have not left you without entertainment.
I got into a little brawl with the Republicans over at Bob's site because they up and decided that I am far more important than I truly am.
A little background - five years ago I wrote a local newspaper column and they still haven't gotten over it. The newspaper had a conservative writing an opposite column to mine, but it didn't work out for him. They don't like to talk about that.
Last time I checked, I have been blamed for teaching Republicans how to fight with each other in a most vicious manner (post #112) and several other things of which I am very proud.
It starts about post #88 It's one of those things where you can explain it to them but you can't understand it for them.

---

January 20 - Now here's the deal.
Some whiney babies are complaining that I'm only posting the campaign contribution and expenditure reports of Republicans.
Five words: Kiss My Big Blue Butt
If you want to see all the campaign finance reports, haul your happy Republican patootie over to the elections division of the courthouse and pay for them yourself. Or, better yet, go to the 4 to 1 Republican majority on Commissioner's Court and demand that they save the county a whole mess of money by putting all the reports online for everyone to see. Like in Travis County.
A year ago, I announced that I was only posting Republican reports until Republicans voted to put them online. I'm hell bent for leather on this one.
Here's Tom Stavinoha's. Remind me to tell you about "Ticket Tom" sometime. Great story.
Here's James Patterson

---

January 19 - And the Republicans whine about Hollywood liberals?

AUSTIN, TEXAS — Hours after Gov. Rick Perry kicked off his second full term in office, Ted Nugent helped him celebrate at a black-tie gala, but not all attendees were pleased by the rocker's performance.

Using machine guns as props, Nugent, 58, appeared onstage as the final act of the inaugural ball wearing a cutoff T-shirt emblazoned with the Confederate flag and shouting offensive remarks about non-English speakers, according to people who were in attendance.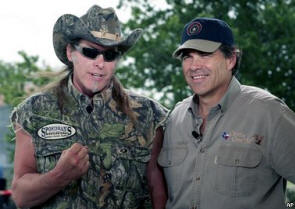 Mama, don't let your babies grow up to be Ted Nugent.
Dear Susan,
One of the funniest things I've heard all week was when Stephen Colbert responded to Bill O'Reilly's statement that "I'm not a tough guy, this is all an act." by asking "If you're an act, then what am I?" Ted Nugent is much the same. He's an act. A tough act, but an act just the same.

We finally got some snow flurries today and the temperature has fallen into the 20's. It's about time things got seasonal here -- I was afraid I was going to end up having to mow yard in February like I did in Houston.

Don
---

January 18 - Oh dear, even the Methodists don't want him.

DALLAS (AP) - A group of Methodist ministers from across the nation launched an online petition drive Thursday urging Southern Methodist University to stop trying to land George W. Bush's presidential library.

The petition, on a newly created Web site, , says that "as United Methodists, we believe that the linking of his presidency with a university bearing the Methodist name is utterly inappropriate. http://www.protectsmu.org

"Methodists have a long history of social conscience, so questions about the conduct of this president are very concerning," said one of the petition's organizers, the Rev. Andrew J. Weaver of New York, who graduated from SMU's Perkins School of Theology.

I'm tellin' ya, Wharton County Junior College is starting to look better and better to Bush.
We probably don't have room for a whole library, but Verdelia says we could use her luxury motorhome for his library like a bookmobile out on the parking lot, 'cept it'd be Bushmobile and that don't sound real good.
So if you guys have any ideas, let us know.
While the term Bush Library has a certain discordant ring, like brothel virtue, I would imagine that if all else fails Bob Jones Univ. might come to the rescue.
Thomas Kleeman

---

January 18 - For those who have been anxiously waiting, here is Commissioner Andy Meyer's campaign finance report, it's scanned. Click here to open in PDF format.
I suspect that Andy saw me coming because this is one of the most circumspect campaign finance reports he's filed in 5 years - there's only a couple of violations of the law. That's a record for Andy!
Click the little one to see the big one.
Here Andy pays his credit card company $2,600 for unspecified "Reimbursement of Personal Expenditures for Political Activity in prior reporting period" and "Expenses of Election Poll activity." You can't do that. For all we know, he could have been hiring some pavement princesses to influence voters. I'm not saying that's illegal in Sugar Land because it's probably not, but it is illegal to keep how you spent the money a secret.
And ask yourself how many times you've submitted expense reports and they come out an even exact number. It's about as rare as bluebonnets in October for that to happen, yet Andy caught it twice in one report. Pretty amazing, huh?
No, actually three times. He paid his son $400. for "Expenses for Post Election Party." No can do. You gotta say what the expenses were.
Political junkies will want to see the whole report, which includes a payment to Terese Raia for "Reimbursement for mailout of literature" in the amount of .... oh no! It's a damn miracle, another exact number $450!

---more to come

---

January 17 - Now, you would think that after all the stink with PBS&J, the Florida engineering company, over-billing governmental entities they did work for, under investigation for violating campaign finance laws, and having their CEO indicted for cooking the books, that politicians would shy away from taking money from PBS&J for at least a respectable time.
You'd think wrong.
Commissioner Andy Meyers took $2,000 in the middle of July last year, while Tom Stavinoha (more on that later) took $800. Bob Hebert, a.k.a. Big Daddy Kickback, took $2,500 about the same time.
I swear, these guys would take money from the Devil Hisownself.

---

January 17 - I live for this stuff. I really do. Everysingledamntime our elected officials file their campaign finance reports, the gall level in this county rises to floodstage.
It's January, so start wading! I have the latest reports filed yesterday. Let's start at the top.
I am certain that most of you are familiar with County Judge Bob Hebert, a man who describes himself as "independently wealthy." Well, he's got his hands in your pocket. Again.
During the last six months, Hebert spent some of the $100,000 that was sitting in his campaign account. Most of it he gave to charity so he'd get written up in the newspapers about how charitable he is. He wants these charities to be indebted to him come election time.
It's other people's money. I can be charitable with other people's money, too. It comes from his campaign account, where non-bid vendors, developers, and other folks who don't live here but want something – contracts, tax abatements, and unsustainable growth – regularly make deposits.
Bob Hebert is very generous with money that eventually comes out of your pockets in the form of higher prices to the county or higher taxes because somebody ain't paying their fair share.
In real life, Bob Hebert isn't so generous. He supported an 18% pay raise for himself while other county employee got 3.3% increase. The man makes $105,000 a year. It ain't like if he's fibbing about the wealthy part, he'd qualify for food stamps on his salary.
He put his wife on the campaign payroll. Seriously.
In clear violation of State law.
I mean, you'd think he'd learn this stuff watching DeLay take a dive.
Look for yourself. You know the drill, click on the little one to get the big one.

Sure looks like she was paid to do the books, huh? First off, it's against the law. Here's the law.

A candidate or officeholder may not use political contributions to pay for personal services rendered by the candidate or officeholder or by the spouse, or dependent children of the candidate or officeholder. There are also restrictions of a candidate's or officeholder's use of political contributions to make payments to a business in which the candidate or officeholder holds a participating interest of more than 10 percent, a position on the governing body of the business, or a position as an officer of the business. See Ethics Advisory Opinion No. 35 (1992) (regarding the combined effect of this prohibition and the prohibition on corporate contributions). Elec. Code § 253.041CHAPTER 253. RESTRICTIONS ON CONTRIBUTIONS AND EXPENDITURES. (It will open in a PDF) A person who violates this section commits an offense. An offense under this subsection is a Class A misdemeanor.

But, it doesn't stop there.
By Bob Hebert and commissioners court's choice, the county destroys all official records of campaign finance reports after 2 years. State law says they "can" do that, but they don't have to. So, the commissioners could be going back and reimbursing themselves for things they already reimbursed themselves for three or four years ago.
Hebert may have already paid his wife for her services in 2001, 2002, and 2003, and this is some sly scheme to double pay your wife in a community property state. Maybe this is community-property-wife-double-dipping! We've got laws against that kind of behavior, dammit.
Hebert and the commissioners seem content with this predicament.
I chatted with a Texas Ethics Commission lawyer around noon today. Yep, paying your wife with campaign funds – class A misdemeanor. Going back six years and dreaming-up expenses - class A misdemeanor and probable cause for an insanity hearing. Okay, so I made-up the probable cause stuff but - hey - I'd give the men in the white coats a warrant on that.
Now I know you're asking yourself, "How does Hebert think he can get away with this?"
Cheeezzz … rules? You think Bob Hebert cares about rules? I mean, it's obvious he never even bothered to read the Code of Judicial Conduct.
Rules are for suckers. Hebert doesn't need no damn rules.
Here's Hebert's entire report. It will open in PDF format.

Tomorrow or whenever I get around to it: How many laws can Andy Meyers violate in 13 pages or less?

---

January 17 - My friend Judy always carries her camera. She just sent me an email with this photo and the comment,

"Couldn't resist taking a picture of this appropriately dented bumper at the parking of HEB. Judy"



I blacked-out the license plate to keep from embarrassing the children.

---

January 16 - As Alfredo says, It's good to be the King (again).

New legislation that will appear shortly before the Senate Judiciary Committee will make it significantly more difficult for public officials to escape indictment or conviction for corruption.

The bill, released along with a war-profiteering prevention act as part of an anti-corruption package by the Senate Judiciary Leader, works mainly by extending the statute of limitations on "bribery, deprivation of honest services, and extortion by a public official" by three years.

And just in time to have some impact --

However, the bill is partially retroactive, and, if it passes, will apply to acts of corruption committed as long ago as 2002, including many in Congress who are suspected of having illicit ties to indicted former Rep. Tom Delay (R-TX) or convicted influence peddler Jack Abramoff.

Thank you, Pat Leahy. That'll teach Cheney to cuss at you!

---

January 16 - Oh Sweet Heavenly Pork Rines, somebody slap the Governor.

PERRY INAUGURAL SPEECH SEEMS TAILORED FOR AUDIENCE BIGGER THAN JUST TEXAS

Listing conflicts in the Middle East and Darfur, the AIDS epidemic in Asia and Africa and economic conditions in Mexico, Gov. Rick Perry's gaze seemed fixed far beyond the confines of the House chamber during this morning's inaugural address.

In a speech more aspirational then prescriptive, Perry gave a lot of fodder for those speculating about his political future. Already mentioned as a possible veep candidate in '08, Perry's attention to global matters and the overall evangelical tone of his oration could spark more talk along those lines.

First off, people who comment aloud about Rick Perry's far-off "gaze," should step away from the keyboard and get a darn grip on themselves. It ain't a far-off gaze, my friend, it's a dim light bulb. It's the same "gaze" that a doll has.
Just the idea that anyone from Texas could be elected to national office in two years has more ass than pirational, because somebody - and I ain't saying who - has pretty well ruined it for the entire state. Ya hear what I'm saying?
So the way I figure it, this speech is why God closed down the parade and the inaugural ceremony. People would have thrown the statues on the Capitol grounds at Rick Perry if this ceremony had been outdoors and open to the public.

'Nuf Said
Maybe Gov Rick will run with Ark Gov Huckabee. I can
see their bumper stickers now:

GOOB/BOOB 08

Sam in Pearland

---

But, susan you have to admit he does have good hair. The govner might as well start checking out housing in spain-he already works for them and hes about as popular as a rattle snake at a church social these days-somebody should tell him its not allll about the
hair i dont think he gets it!

Karen

---

No that is not 'nuf said. Nuf said is that the kid in the middle is the best reader of the three.

Ernie

---

Gaze? Aren't those what Ann Richards was going to fill up the state gummint with?

Dr. Doyle in Nacogdoches

---

January 16 - Whoever would have thought that our exit strategy from this failed Presidency would be something as simple as a Scooter?

When Vice President Cheney's former chief of staff goes on trial Tuesday on charges of lying about the disclosure of a CIA officer's identity, members of Washington's government and media elite will be answering some embarrassing questions as well.

I. Lewis "Scooter" Libby's case will put on display the secret strategizing of an administration that cherry-picked information to justify war in Iraq and reporters who traded freely in gossip and protected their own interests as they worked on one of the big Washington stories of 2003.

This is the trial they should have on Court teevee, Honey. I'd watch this day and night.
I can't wait to see Dick Cheney snarling on the witness stand, saying stuff about the definition of "is".
Anybody got a scooter for Iraq?

---

January 16 - Okay, it's my favorite time of year - campaign finance report time.
Yes, I will be letting you know which county commissioners (and county judge) are in the pocket of non-bid vendors. Commissioner Andy Meyers already has his gutless troops out trying to poison the well (see #71) so I suspect he deserves a closer look this reporting period. Perhaps he would be willing to let me see his actual campaign checkbook to compare to his report since he is reportedly a man of "ethics, morals, [and] values."
By the way, when someone tells you that these vendors donate to Andy because they were his friends even before he ran for office, that person is obviously not in possession of Andy's first campaign finance reports or his first financial disclosure statement.
And they probably don't remember that Andy personally loaned his campaign money it didn't need and paid himself 10% interest for doing it.
I'll order the reports today and try to scan them all tomorrow. This is just another free friendly service offered to you by people who think open government should be open.

---

January 16 - It didn't freeze here so - rats! - no ice pellets. See emails below for explanations.

---

January 15 UPDATE! - I live on the Texas gulf coast for a reason. I have a strong dislike of cold.
And it's fixing to get cold here. Cold enough to freeze the balls off a billiard table. Cold enough to make a third degree Mason drop a degree. Colder than a Republican's heart.
We're not used to that here. I mean, we're used to cold Republican hearts, but their hearts are so small that it negates any climate changes.
When I was a little girl and a blue norther was expected, my Granddaddy Dale told me if I put a pot of boiling water outside the backdoor, it would freeze so fast that it'd make warm ice cubes. Just thinking about that gave me a headache. Still does.
They're suspecting that we might lose electricity tonight because an ice storm is coming. Unless it's warm ice, I'll be too busy shivering to fret about posting here but don't worry. I have a fireplace, some marshmallows, a pair of pink boots, and a big ole Bubba to keep me warm.

Does anybody know what "ice pellets" are?

I know what rabbit pellets are. I even know what buckshot pellets are. But, I have no idea what ice pellets are. Maybe it's that ice like you get at Sonic. That would be kinda cool. Hey Dude, all we need are some onion rings and we've got a party in the backyard!
Whatsamatter? - "sleet" or "hail" aren't scary enough for ya?
Hi Susan,

Up here in the frozen northland it might get down into the low 30's this evening. That there global climate change is really confusing.

One of the local weather guessers was describing how the warm moist El Nino type air from the Pacific is "gliding over" cold stuff from Canada and when that happens, the rain from the warm air freezes as it passes through the cold air. This forms little pellets of ice which are slightly different from sleet which is more like slush falling from the sky and landing on everything. I think the worst is freezing rain where it's still liquid when it falls but freezes as soon as it hits the colder objects like tree branches, power lines, and the windowshield on my car. As it continues to fall, the layer of ice continues to get thicker which is what often brings down the power lines hereabouts. One year we were cooking on the wood stove for 4 days but our phone lines didn't go down. We moved that stove to TX in 1999 and back here in 2003 but we don't have the right chimney to hook it to and the insurance companies are getting picky about insuring older houses with woodburners in them. So if we lose power, we'll all gather in the one room that has a propane heater and try to keep the water trickling through the pipes. The emergency generator to keep the oil burner motor going is still on the "to be gotten" list.

Stay warm,
Don

---
Hey Susan,

I think ice pellets are like really frozen sleet that comes down fast and they feel like sharp little ice knives. We've had a very mild winter so far ..no snow accumulation at all and this is very unusual. My sister lives in Albuquerque and when she came for Christmas her plane was delayed a day because the Albuquerque airport closed down. That's never happened in the 30+ years she has been coming home for Christmas..it's usually the airport here or Chicago that gets socked in. If you are having those ice pellets, don't go out those suckers hurt like hell when they hit your face...and don't let them stab you in the eye...

Good luck with the weather,

Kathy

---

Doesn't that just delight you that Rick Perry's parade's cancelled? They're even noticing over at the NYTimes:

and Austin, Texas, where officials also canceled Gov. Rick Perry's inauguration parade on Tuesday because another round of ice was expected during the night

Unfortunately, I read somewhere that they're not canceling the inauguration.

Marion in Austin

---
---

January 14 - If people from Texas have had a nose itching lately, it's because we're being talked about.
The Arkansas Times Blog writes about on their own Mike Huckabee, a Republican far right lunatic running for President. Thank goodness, they don't blame us for Huckabee's uptight downright insanity.

ABC News' Teddy Davis Reports: In a forthcoming interview for C-SPAN's "Road to the White House," former Gov. Mike Huckabee, R-Ark., attributes President Bush's failure to fashion a "humble foreign policy," at least in part, on the President's home state of Texas.

"Some of it is the language of Texas, and I mean that in a very loving way," said Huckabee who also attributed the change in President Bush's foreign policy approach to the terrorist attacks of Sept. 11, 2001.

Huckabee, who is actively weighing a 2008 presidential bid, said in the interview that he understands the Lone Star State because Texas is a neighbor of Arkansas and he attended four years of school and graduate school there.

"It's a matter of saying, 'there's a line in the sand and you're either with us or against us,'" said Huckabee. "Well, we understand what that means in the South and Southwest. But in many countries and cultures that may be seen as an ultimatum."

Huckabee concluded by saying that America's approach to the world "probably is something that needs to be revisited and repaired."

Guv Huck, I'm a fifth generation Texan and if I say I'm drawing a line in the sand, it most certainly is an ultimatum. You need to understand that before I get my drawing stick out.
And, Honey, I do not know where you went to college in Texas but if you don't understand "you're either with us or against us," then it wasn't UT or A&M.
Look, the rest of the world understands Bush pretty darn well, just like I understand Jim Bob when he's drunk.

---

January 13 - Every now and then a story comes along that's so great you just have to share it.
Clap your hands together because it's one of those times.
Jesus showed up in Wild Peach, Texas. On the laundry room floor. Unannounced.



A Democrat in Lake Jackson (which is dangerously close to Wild Peach) got a picture of it and the local newspaper has the whole story. The name of the newspaper is The Facts, so it can't be wrong.

WILD PEACH — Doris Wells never expected to receive what she called a sign from God, but family and friends agree that is what she got.

Wells, who lives with her cousin Jewel Lacina in Wild Peach, said she was busy doing her laundry when a spot she had noticed on the floor before just jumped out at her.

"It was like something said, 'Look at me. I'm right here,' just like we were meant to see it," Wells said Wednesday afternoon.

Wells and Lacina believe the image that appeared is Jesus Christ on the cross with his loin cloth, beard and body clearly visible, and his face hanging softly toward his right shoulder.

Well, they called their cousin Gary and their minister, Pastor, C.E. Bosarge of the Trinity Pentecostal Church of God in Sweeny, to come over and scientifically document this event. Then some neighbors and church members came to see it.

Since then three members of the church have shown up to Lacina and Wells' home to view the image, and Van Ness said he suspects many other Christians won't be far behind.

"I'm not trying to show off, but I feel like I should share it with everyone," Lacina said. "The Lord wouldn't appreciate it if I didn't show it to anyone."

Now see, I personally think she is showing off, otherwise she wouldn't have put on her good tee-shirt for the picture. And you'll notice that looks like a nice new washer and dryer in the picture that no one in the neighborhood or church would have seen had Jesus not suspiciously showed up on the floor.
I ain't saying that Jesus wouldn't do all he could to help Doris and Jewel show off their washer and dryer, but you'd think He'd pick a spot where you wouldn't have to stand on him to get the clothes out of the dryer. I'm just saying.

No, if she was showin' off, she'd have mopped the floor first. Inviting people into your house to see your dirty floor! My word, what's this world coming to!?

Besides, where's those gold flip-flops she got at Wal Mart? That is showing off!!!!

Sally Beth

P.S. I belong to the Missionary Baptist Church in Jake Jackson, where a mopped floor is next to Godliness.

---

Is she sure that is Jesus on the laundry room floor? I know you can't tell much from a photo, but it looks like Willie to me. ;-)

Deb

---

Doris and Jewel also regularly see Elvis at the bowling alley. It is an irreversible result of Pentecostalism. That and voting Republican. They think Bush is winning the war, too..

Friend

---

I actually thought it was Arthur of PBS fame.

stephanie up in Arlington

---

January 12 - I got an email update from Shelley Sekula Gibbs this morning, touting her most major accomplishment in Congress --- ta! da! Drum roll, please - PERFECT ATTENDANCE!
I most certainly am not kidding. Read this if you don't believe me. She used her big banner, pictures of her with Denny Hastert, and everything all fancy and official like.

Dear Susan,

Houston Republican Shelley Sekula Gibbs, elected to serve the final weeks of Tom DeLay's term, had a perfect attendance record according to Congressional Quarterly. Also earning a perfect attendance record was Texas Senator John Cornyn. Congresswoman Sekula Gibbs cast her vote in all 25 of the roll call votes that occurred during her tenure.

Then she listed some of her votes - none of which made any difference whatsodamnever.
Shelley, Honey, Sweetie, you had a perfect attendance record because nobody wanted you anywhere else. I'm sorry I had to be the one to tell you, but somebody had to do it.

---

January 12 - Dr. Doyle had some fun, too.

---

January 12 - My friend John had a little fun with Tom DeLay's new book cover. Take a look.
And Raw Story says the whole thing is becoming a soap opera. It appears that everybody used to be married to everybody else and even Pat Buchanan is second cousin twice removed from somebody in this mess.

---

January 12 - Ron Paul, our neighboring Libertarian/Republican waste of a Congressman is considering running for President - again. Oh goodie, somebody to make Pat Buchanan look sane.

---

January 11 - The Dallas Morning News reports that county commissioners there are already whining.
What is it about "You're the only elected officials who get kickbacks because you're the only ones who control all the damn money" don't they understand.

Disclosures by officials to be posted on Web site

Residents will soon be able to visit the Dallas County Web site to find out if their county commissioner has ties to a county vendor or has accepted gifts from them. Conflict-of-interest disclosure forms soon will be posted there, along with officials' annual financial statements. Officials are working on implementing the county's conflict-of-interest policy as part of a law passed last legislative session requiring government officials to make certain financial and business disclosures. The law also requires counties with more than 800,000 residents to provide searchable access to the forms online. The law generally applies to county commissioners and members of the juvenile board. But Commissioner Ken Mayfield wants the county to extend the requirement to other Dallas County elected officials and appointees.

We'll get to hear our Republican 4 to 1 majority on commissioners court whine next week when I post all the Republican campaign finance reports online. They have the power to put everybody's report online (and it would be cheaper for the taxpayers to do it that way) but they still try to hide their dirty dealings.
They're rats.

---

January 11 UPDATE- Our friend Kathy in Indiana keeps us informed about the Snyders - a political fight that we've been following for over a year and includes several butt whoopin's.
Kathy writes ---

Well now David Snyder has been charged with a felony for beating up another member of the council. This guy is truly nuts. If he loses his Real Estate license and loses his job on the council I guess he'll have to move out of town. Maybe he'll move to Texas to be close to his kids so it will be easier for him to pay the 92,000 he owes in back child support.

He could hook up with Gary Gillen and make the big time.

Kathy

There's this story. And this one. You could entertain yourself all afternoon comparing Roseland to Sugar Land.

Kathy reports that it's getting better and better or worse and worse, depending on your entertainment needs.

---

January 11 - And then there are those of us who think the Bush library would look appropriate sitting amid a field of rubble.

Eviction, mystery and accusations are the latest events in the advance of the proposed Bush presidential library at SMU.

Today federal agents marched in this morning with eviction notices in hand.

The last two residents of the University Gardens condominiums got orders to leave this morning.

[more stuff here about a mysterious break-in]

"They've known for four or five years they've wanted to put the Bush library here. They knocked on my door and handed me this writ of possession saying they want possession of my home," he added.

Gary Vodicka has appealed his case.

But he points out that even if he wins his appeal, his condos will be the only building standing among a large field of rubble.

---

January 11 - Bob Dunn continues the saga of irresponsibility over at the Texas Energy Center. Now even the Gov's office looks incompetent. I think they get extra points for adding incompetent to stupid.

---

January 10 - And people actually wondered what I'd do to occupy my webspace after Tom DeLay left office.
Silly, silly, people.
Lookie right here. Raw Story gets an advance copy of the book and leaks about the in-fighting it's causing at the publishing company.
I'm not saying that DeLay carries around about 60 pounds of grief everywhere he goes and starts fights ..... no wait, that's exactly what I'm saying.

And then there's the little matter of this. You know the drill, click the little one to see the big one.
He's written a book and the infighting has to do with the cover of the book.
I suspect they are fighting over that because who in tarnation is going to buy this sucker? Face it, Tom doesn't have that many fans who can read, so it doesn't matter what's inside. This whole argument is like having it floored in neutral.
So, they're fighting over how the cover should look.

The current cover shows a gently smiling DeLay against a black backdrop. Penguin sources say that Senior Editor Bernadette Malone originally wanted a cover that showed DeLay alongside a flag and a cross.

[and later]

"After heated discussion, saner heads prevailed," the Penguin source said. "Sentinel has now prepared to go with a cover that will not include Tom DeLay with the editor's strong desire to place him against an American flag backdrop and a cross, both seemingly implying he's a man that respects the constitution and some sort of religious messiah.

"They got it right with this latest cover," he added. "He's a man with a black background."

A man with a black background, and they don't mean African-American, Honey.
And just in case you forgot who DeLay's editor, Bernadette Malone, is ...

In a column authored in the run-up to the 2004 Republican National Convention, Malone called would-be protesters "junior terrorists" who planned on "giving false directions to little blue hair ladies from Kansas." She punctuated the piece by declaring that "prostitutes with AIDS plan to seduce Republican visitors and discourage the use of condoms."

Oh baby, baby, you left out the part about liberal prostitutes stealing the kidneys out of blue haired ladies and putting them on ice in the bathtub. And hiding under your bed! Don't forget that part, Bernadette!

Hi Susan,

Tomboy's new book cover is hilarious ..that big ol' disjointed head floating over his sickeningly puny body reminds me of a ghost story. Yeh, he's scamming, got to get that cash for his trials coming up.

Kathy

---

He admits that he has someone else write his blog for him so we can safely assume that someone else wrote the book for him. The question is, who read the book to him?

Len

---

January 10 - And news of the ridiculous just keeps on rolling today.
The Hill did a special piece on Shelley Sekula Gibb's six week Congressional tour. It's a hoot.
Under the category of "No shoot, Sherlock", we have ---

With her two-month term now over, analysts say Sekula-Gibbs not only has failed to establish herself as a frontrunner for the GOP nomination next year, but also has damaged her chances for a second stint in Washington.

Then a delusional local GOP Party Chairman (so sue me, Gary), says of Shelley's mistakes ---

"It was such a short period of time; I don't believe it will really have an effect," the chairman of the Fort Bend County Republican Party, Gary Gillen, said.

Well, Gary, a nuclear bomb just lasts a second or two .... but the memories last forever.
And by the way, Gary, watch Jared Woodfill of Harris County push his candidate while you fumble around defending Shelley because she got maximum damage out of minimum time.

"Paul Bettencourt has the highest name I.D. and the highest positive name I.D.," Woodfill said. "He is the most popular politician in Harris County."

David Wallace, the Sugar Land mayor who withdrew from a write-in candidacy last August, has said he is eyeing 2008.

In addition, state Reps. Charlie Howard and Robert Talton, as well as lawyer Tom Campbell, who briefly ran last year, may pursue the seat.

Tom Campbell got a leg-up on all of them by settling the inner-party squabble here.
Campbell, Talton, and Bettencourt seem to be the leaders. Wallace will not run - mark that on your calendar.

---

January 10 - Okay, here's the deal. The next time a public/private partnership wants some of our tax dollars to finance wildcatting or a business scheme like the Texas Energy Center, let's just use that money for a big ole bonfire and weenie roast instead.
I even have a list of the weenies that need roasting.
We could invite everybody in the county and rent out all the hotels so they could invite their families from foreign states to come and we could give everybody extra mustard and all, and still come out better on the deal. I mean, doesn't that sound like a more fun and productive way to waste my tax money?
Remember back in 1999 when Herb Appel at the Economic Development Council got scammed into buying fancy lunches and entertaining a guy who arrived on his doorstep with no credentials and no connections? Well, that should've told ya something about these so-called "public/private partnership" right there. I told ya all about it but would you listen? No, you would not.
These public/private partnerships mean that the public provides the money and the private wastes it without having to be answerable.
I want my money back. They spent $250,000 of my county tax money to pay rent on a an empty building. No, I am not making this up. These clowns are too nutty for fiction.
Weenies.

---

January 10 - Best headline ever. Go ahead; click it.

Fan me with a brick, when I read the headline about Hooters I thought they were accusing Jeff Gannon of being an arsonist.

Speaking of hooters, that might be the only thing they could put on the cover of Tom's "book" that would make it sell.

Sam

---

January 9 - Alfredo just told me that he's surprised to hear that Tom DeLay hasn't taken a hit out on David Vitter, (R., La.)

Vitter just introduced an amendment to the Senate ethics bill (S. 1) that would prohibit immediate family members of a Member of Congress from receiving a salary for working for the Member's PAC

---

January 9 - Do not miss Bob Dunn's special series on the Texas Energy Center. It's some excellent investigative reporting. It'll even be interesting for you folks from foreign states.

---

January 9 - Hello from Austin again! It'll be a fun day today!

---

January 8 - I'm in Austin today where they found dead birds all over downtown. I, personally, think it had something to do with all the Tom Craddick wheeling-dealing over the next Speaker of the Texas House. There's some dirt that even grackles can't abide.
That's the bad news.
The good news is that there was a chemical spill in Sugar Land while I was gone that they cannot blame on me. I had nothing to do with it, although I suspect the Republican Distrust Fest may at least warrant some investigation for pollution.

Jeannie Gage, of the Sugar Land Police Department, said she looked out of her office window at police headquarters on State Highway 6 at about 1:45 p.m. and saw what appeared to be vapor from a large chemical spill.

"At one point it looked like a big pure-white mushroom cloud," she said. Then it expanded. Gage said it appeared to be "thick," and hung low to the ground, adding that it gradually moved from west to east.

Okay, I'm impressed. I look out my window and see a white mushroom cloud and I'm under the desk calling Travelocity for a way outta here. Screaming would be involved as would pointing and making guttural noises. I ain't no hero when it comes to white mushrooms clouds. I lived through the cold war and I even have the phone number for Dial A Radiation Level on speed dial.

We decided at Stafford Ice House last night that between the new dollar a pack tax and the city-wide smoking ban, the Austin birds were all dying of nicotine withdrawal.

Dennis

---

January 8 - It has been brought to my attention that Congressman Nick Lampson has been caught with his rhetoric down again.
Lampson held a press conference in Sugar Land Town Square on March 21 with a large blown-up graphic railing against the Republicans for raising the debt ceiling. It was a show. I was there. I have pictures of it. I thought he was serious when he said of Tom DeLay's big oil give away ---

All earmarks should be required to be debated publicly before Congress, he said. And that goes for local favorites, such as a 10-year, $500 million deep-water oil and gas research project that a Sugar Land consortium is trying to win.

A funding provision for the Ultra-Deepwater project was inserted into the 2005 energy bill during last-minute House-Senate negotiations.

Sugar Land Republican DeLay, house majority leader during the crafting of the energy bill, was said by some observers to have been instrumental in getting the Ultra-Deepwater project included in the bill.

"That's not right," Lampson said Tuesday. "That means that Congress didn't vote on that. It may be the greatest program in the world, but why does it need to be forced? Why does it need to be done sneakily?"

Done sneakily? Honey, it's still more sneaky than a spitball.
I was told by a Lampson staffer today that Nick approved this program with Speaker Pelosi. Make a mental note of that for later.
Okay, let's look at a timeline. In late March, Lampson slams this program as an earmark that was done sneakily. In May, two months later, Lampson is in Washington trying to save it by getting Democratic legislation to kill it buried in the energy committee.
What happened in those two months?
And once Lampson discovered that the program he specifically called "not right," was, in fact, so very right that it became the first thing he did in office, why did he never discuss it publicly? He had five months to explain why he changed his thinking about sneaky.
Sneaky, my big blue butt.
You couldn't clean this oil give away with a brillo pad and a gallon of Lysol.

Hi susan, im a fan in 22. I hate to say it but lampson probably never thought the money for research was a bad idea. Just the underhanded kiniving way it was done. The ship channel grew more oil under ann richards than any other governor. Nicks quote was exactly what he meant...tom delay wanted dems to look anti business...like it has to be forced and he and he alone can save us. Dems are heavily invested in oil too...just ask the clintons about their valero stock. Maybe this will save anwar!

Karen

---

This is more to Karen than to you but I was wondering why doesn't Nick vote against choice? The Republicans are always complaining about us supporting abortions you know. I thought I voted for a Democrat. I thought Nick supported alternative fuel sources, not alternative ways to find more fossil fuel. This makes me sick.

Rony

---

Dear Susan (who will always be Juanita to me because Juanita is a much more special name than Susan although I'm sure your mother would argue with me on that one),

It was with great chagrin but not an iota of surprise that I read on your site how your latest congresscritter followed in the footsteps of his inconsequential predecessor's ethically challenged predecessor as representative for your district. I know that you used to be an independent and decided to throw your lot in with the Democratic branch of the Business First party because it was the best way to rid your district of the curse of Tommie the D. For this I honor your pragmatism.
I've always had problems with the concept of voting for the lesser of two weevils. I admire Mae West for her recognition that when faced with such a choice it is often better to choose the one you've never tried before. But in politics, I still stick with the former Senator from Wisconsin (no, not THAT one), Bob La Folette who reminded us that it is better to vote for what we want and not get it than to vote for what we don't want and get it.
It is not yet too late for Mr. Nick to straighten out and fly right. I only hope that he will see the handwriting on the wall and conclude that his days are numbered, his chances of getting re-elected when the Repugicans don't have to figure out how to write in for the
lady in pink are right down there with the snowball on Smith Street on the 4th of July and that the only thing he can do to save himself is to vote his conscience and not his contributors' pocketbooks.
Here in the great wilderness known as Pennsylvania, we have had a very unusual exercise in bi/non-partisanship. The Democrats appeared to have won control of the state house by a slim 1 vote margin but then one of their number stated that he was going to vote for a Republican to be speaker of the state house and keep the current occupant in the speaker's chair. The reform-aware group of Republicans joined with enough Democrats to elect a DIFFERENT Republican -- one with a small but detectable portion of ethics -- as the speaker.
Will wonders never cease?

Don, (who is still flying his Dump DeLay button in Pennsylvania where people think it's a comment on landfills).

--
"I was a Republican until they lost their minds."
Charles Barkley

---

January 7 - Okay, I've slept on it and the Nick Lampson boondoggle looks even worse this morning. Crapola! I know I hold Democrats to a higher standard, but that's because I expect them to act right. I never expect that of Republicans.
To catch you up -- Lampson saved Tom DeLay's passed-in-the-dead-of-night pet project. It's corporate welfare at it's very worst.
Lampson is trying to spin it that it's not taxpayer money being used because it's money big oil owes America. (See comment by "boogerweed" and then watch boogerweed get eaten alive)
I have a question: if big oil made record profits last year and justified that by saying they were re-investing those profits in research and development, then why do they need this in the first place?
What ever happened to wildcatters? Will the government let small business folks withhold their taxes to help their businesses?
But, the politics of it look even worse.
Ponder on this sucker from the article:

Melanie Kenderdine, vice president of the Gas Technology Institute and a RPSEA board member, said Lampson was instrumental in rescuing the DOE program in May 2006, when Markey offered an amendment in Congress to kill the project.

In May? In the middle of a campaign that Lampson may or may not win? Lampson goes to DC to rescue a boondoggle for oil guys and Sugar Land?
According to research done by Hal, HR 5300, Energy Fairness for America Act introduced on May 4th, never got an up or down vote. If DeLay's boondoggle was such a good deal, then why was it never, ever given an up or down vote?
And then you have to ask yourownself: If this was such a wonderful thing, how come you never saw it on Nick's ads, the script for the phone calls the volunteers made, his speeches to warm up 'the team' to go out and work for him? Huh? Why wasn't this grand and wonderful thing even mentioned in his campaign?
Yeah, I do hold Democrats to a higher standard. At least higher than rescuing Tom DeLay's underhanded earmarks.

---

January 6 - Oh, be still my heart - the GOP Party Chairman has counter-sued five members of his own party. No, really.
I mean, they're all up in each other's faces, doing that neck thing, saying, "Oh no you diddn't" and "impugn and defame" and "but he started it!"
One of them claimed innocence because he was so sick that he had to be carried from the room. Oh hell, this is Texas, we know a hurt snake can still bite.
Let me tell you how bad it's gotten. It's gotten so bad that they've run out of Republican lawyers and some of them are having to hire Democratic lawyers.
Oh be still my heart.
A local Democrat makes a horrible, hypocritical mistake and all the Republicans can do is circle the wagons, shoot each other, and get the Democrat's mistake off the front page. I mean, I used to have hoochy-koochy fantasies like this, but they were just fantasies.
By the way, in a stroke of genius, the Democrats scheduled a party on the night before the testy Lincoln Day Dinner. It'll be a Valentine's love fest.
Honey, this is more fun than chasing your little sister with a frog.

---

UPDATED! January 5 - Well, Nick Lampson got the consolation prize. Instead of getting named to the Appropriations Committee, he got the scaled down version Tom DeLay's pet project. Lampson got RPSEA a 10-year, $375 million research and development contract.

U.S. Rep. Nick Lampson and board members of the non-profit Research Partnership to Secure Energy for America consortium will announce Saturday the finalization and signing of a 10-year, $375 million research and development contract, expected to be managed from RPSEA's Sugar Land headquarters.

Why we need to subsidize research and development for private industry escapes me. I thought the American people voted against earmarks and pork barrel spending in the last election.
This is the same deal that Rep. Henry Waxman (D-CA) pitched a fit about. He sent a letter to House Speaker Dennis Hastert regarding the $1.5 billion provision benefiting oil and gas companies, (and sent it to Nancy Pelosi, too) Halliburton, and Sugar Land, Texas, that was inserted into the energy legislation after it had been closed to further amendment. Waxman wrote ---

"The provision at issue is a 30-page subtitle called "Ultra-Deepwater and Unconventional Natural Gas and Other Petroleum Resources."[1] This subtitle, which was taken from the House-passed energy bill, was mysteriously inserted in the final energy legislation after the legislation was closed to further amendment. (Emphasis mine)

On the merits, the subtitle is an indefensible giveaway to one of the most profitable industries in America. The provision establishes a $1.5 billion fund, up to $550 million of which would be dedicated direct spending, which is not subject to the normal congressional appropriations process.

"Obviously, it would be a serious abuse to secretly slip such a costly and controversial provision into the energy legislation.

It was wrong for Tom DeLay to do it and it's still wrong. Truthfully wrong. I don't care how many votes it gets for Lampson or how many campaign donations from the oil fat cats. It's still corporate welfare, and it was still mysteriously inserted. It's wrong.
If this bill is so righteous, after having sat unfunded in the Office of Management and Budget, let it pass the Congress again.
I know the name of this blog is Kiss My Big Blue Butt. But when a Democrat has a purple butt, I'm gonna point that out.
I know a whole lot of people who walked in the hot sun from door to door for Nick Lampson, but I can't think of the name of even one of them who did it so oil companies could get a government hand-out.

UPDATE: I'm not finished researching this yet, but I have found a few added interest items:

1) Last February, the Bush Administration tried to kill the give away, saying:"A Department of Energy spokesman said the decision this month merely reflects President Bush's desire to weed out ineffective programs."
Good Lord, even Bush saw it as a boondoggle for DeLay. Why the hell would Nick Lampson want to save DeLay's earmark?

2) The Hill addressed the issue in May of last year, saying ....

Others described the subsidy as the energy bill's "Bridge to Nowhere," equating it with an Alaskan project attached to the transportation bill that became the subject of controversy.

3) This sucker is sticking in my craw. So, I'll continue the research.

Lampson – it's not what's nice anymore.

Marion in Austin

---

Can I get my volunteering time back? It took him less than 24 hours to become what we just got rid of. Does Nancy Pelosi know about this?

Carole

---

---

January 5 - Tom DeLay's campaign committee filed this amended Statement of Organization with the FEC earlier this week indicating that the campaign committee has moved to a new location - 1606 Brookstone Lane in Sugar Land. That would be his daughter house.
Page three of the report lists Timothy Scott as the new treasurer and Dana Benoit as the Assistant Treasurer.
The latest report shows he has cash on hand of half a million dollars, after repaying himself $99,999 of a $100,000 loan.
So, y'all hustle on over to Tom's blog and pay the $52 required to comment. The boy needs the money! Also, while you're there, download the form you have to fill out and mail in to be accepted into their little club. You have to provide references! Would you mind if I use your name?

Looks like he's winding down his campaign committee - paying off his lawyers with what's left and then shutting it down. If he wanted to convert it into a PAC he wouldn't be giving up the leased office space. And besides he still has ARMPAC. And he can raise money for his legal defense fund and not report it to anyone.

Alfredo

---

January 5 - Okay, the Democrats have been in power for almost 24 hours now and my taxes haven't gone up yet, there's been no statue of Karl Marx erected on the Capitol steps, and we haven't made abortion mandatory. I guess that shows that Newt Gingrich is still an idiot.
However, I will be wearing my Bernie Sanders tee-shirt all day today (thank you, Carol) and acting snotty to every Republican I meet in the grocery store. They've got it comin', by Gawd!
In fact, I learned the Super-DeLux Brand Christian sneer from the DeLay girls. I used to giggle at them when they did it to me, but now I get to guffaw loudly and tell them in that very patronizing voice that only the Super DeLux Christians have mastered, "I'm praying for you." You know how they say it - like, "God listens to me, even when I talk about Philistines like you."
They are just a shiver looking for a spine to run up.

Have you considered leasing your Bernie Sanders tee-shirt? I'd pay you to let me wear it to the Republican courthouse mess. If it makes my butt look bigger, I'll pay double.

Edie

---

January 4 - Rats! While the rest of us will be in Austin on Monday preparing for the swearing-ins, the local GOP will be here for swearing-ats.
According to the Fort Bend Herald, Judge Thomas R Culver III will be holding court.

A hearing has been scheduled for 9 a.m. Monday on a request for a temporary injunction against county Republican Party chairman Gary Gillen and a newly-formed political action committee which grabbed control of the huge fundraiser.

A group of disaffected precinct chairs on Wednesday filed a request for a temporary restraining order, which could be issued without a hearing, but 240th District Court Judge Thomas Culver III turned it down. Instead, Culver will hear arguments Monday on whether to issue an injunction against Gillen and the Fort Bend Republican PAC, which would prevent further organization of the fundraiser.

I won't be there but I have a spy going. In fact, several spies. In fact, everybody who's there will be spying for somebody.
They were lucky to draw Culver – probably the only Republican district judge who's not dumb and/or crazzzy. Just think, if it was in Brady Elliott's court, everybody would end up in tears or jail. Hell, Elliott's been known to have people up and die in his courtroom. I'm serious. He's nuttier than squirrel poop.
Come to think of it, I think we should force the Republicans to have it in Elliott's court just so they can see for themselves what we've been saying all these years.
Or they could have it in Cliff Vacek's court and watch him swell-up with stoopid. Of course, Vacek would probably make them rent some of his property first.
Or we could have Pedro Ruiz hear it and really make a mess of things.
Good Lord - I hope they realize how lucky they got.

---

January 4 - I guess she felt the get up and goes coming on, because Harriet Myers is leaving the Bush White House.
There's appears to be, at least in Tony Snow's mind, a reason for her leaving.

Asked why she was leaving, Snow said: "Basically, she has been here six years."

Okay, this brings up a couple of questions.
Bush has been there six years, too, but I don't see him packing no bags and skedaddlin'. Is there a reason for that? If so, can we fix it?
Is six years the limit anybody can be around Bush and still think he's cool or did Harriet set a record?
When's Cheney leaving? Can I help him pack? No, seriously, can I?

---

January 4 - I heard a rumor last night. I don't know it to be true, but it sounds true, which makes it true enough.
It appears that GOP County Chair Gary Gillen's Blue Ribbon Committee to oversee the local Republican money has fallen apart in the face of almost guaranteed legal bills. Folks don't want to be on a Blue Ribbon Committee if the only thing the Committee does is testify in court. People are funny that way.
And, now that A. D. Mueller of Katy has resigned from the PAC and subsequently not named in the lawsuit, everybody's wondering how much talking he's doing to save his own butt from having to hire a writ twit.
Given the choice between watching the local GOP spend money this way or having the neon concession in Las Vegas, I'd pick the in-fighting every time.

---

January 4 - Those who begin following the antics of Roseland City Council via our friend Kathy in Indiana, will be delighted to know that Mrs. Snyder is not giving up easily.
There's a new reporter on the story. That's a good thing maybe because the old reporter could not have resisted ending the story with roasting weenies instead of hot dogs.

---

January 3 - Bob's got the story. Our own local GOP sues its chairman.

---

January 3 - Okay, all you hooter-toters don't forget Juanita's advice to wear your hooters a little higher tomorrow in honor of Nancy Pelosi.

WASHINGTON (AP) -- It shouldn't be surprising that it took more than 200 years for Congress to select a female speaker of the House. The United States isn't exactly at the forefront when it comes to women in politics.

Women make up a larger share of the national legislature in 79 other countries, including China, Cuba, North Korea and Vietnam, according to the Inter-Parliamentary Union, an association of national legislatures. The U.S. even trails a couple of fledgling democracies: Afghanistan and Iraq.

I see that Tom DeLay has taken to calling the first female Speaker of the House "the Pelosinostra," but I'm sure he's doing in that real Super-DeLux Brand Christian way. And he's all upset that she's going to treat the Republicans about 250% better than he treated the Democrats. Hey Tom, she's gonna shove through some ethics reform – nanny- nanny boo-boo.

---

January 3 - Well, if you see me sitting around drumming my fingers on the table, it's because we're still waiting.
We are waiting on the Governor to appoint a new district court judge that we've supposedly needed for a full year but seem to have done just fine without.
We are waiting for GOP Party Chairman Gary Gillen to release the names of his Blue Ribbon Committee that was supposed to be announced after Christmas.
We're still waiting on Commissioner Andy Meyers to explain why the government cannot afford to build roads, but can afford an obscene payraise for him and fancy new digs for the district court judges.
drum … drum … drum ….

---

January 3 - Okay, so maybe God can't pronounce nuclear correctly either.

VIRGINIA BEACH, Virginia (AP) -- Evangelical broadcaster Pat Robertson said Tuesday that God has told him that a terrorist attack on the United States would cause a "mass killing" late in 2007.

"I'm not necessarily saying it's going to be nuclear," he said during his news-and-talk television show "The 700 Club" on the Christian Broadcasting Network.

"The Lord didn't say nuclear. But I do believe it will be something like that."

Robertson said God told him about the impending tragedy during a recent prayer retreat.

Hell, I'm still waiting on the tsunami he promised last year.
You can read it all here, but I cannot imagine why you'd want to.


I hate to be the one to provide ammo for that moron, but I answer to a higher power, which demands honesty, even when it supports a moron.

Case in point: Crescent City, California was hit by a tsunami in November, 2006. See here.

I don't know the extent of the tsunami that Robertson predicted, but if he was vague enough to simply say that the US will be hit by a tsunami in 2006, or some such, then I think this itty bitty one qualifies.

I guess God's wrath ain't what it used to be. Or maybe we gained enough karma from the 2005 hurricane season not to merit anything more than that.

Or maybe it's a happy coincidence. My money's on that one.

=-John-=

---

January 2 - Phew! Help is finally on the way!
According to the Washington Post, the Democrats decided that a little teeny bit of payback is not a bad thing. They've decided to make the first 100 hours count for something.
The issues they will tackle first are: tightening ethics rules for lawmakers, raising the minimum wage, allowing more research on stem cells and cutting interest rates on student loans. You know, things that Republicans hate because they're good for America.
One of my favorites is described as ---

The first legislation will focus on the behavior of lawmakers, banning travel on corporate jets and gifts from lobbyists and requiring lawmakers to attach their names to special spending directives and to certify that such earmarks would not financially benefit the lawmaker or the lawmaker's spouse. That bill is aimed at bringing legislative transparency that Democrats said was lacking under Republican rule.

Looks like Tom DeLay got out just in time.
It will be charming to hear Republicans whine that they're being left out of the legislative process.

---

January 1 - Craig Baker must be a friend of Greg Aydt and Andy Meyers because it happened right here in Fort Bend County.

KATY, Texas (AP) — A man unhappy with an Islamic association's plans to build a mosque next to his property has staged pig races as a protest during afternoon prayers.

Craig Baker, 46, sold merchandise and grilled sausages Friday for about 100 people who showed up in heavy rain. He insisted he wasn't trying to offend anyone with the pigs, which are forbidden from the Muslim diet.

Now, you've got to read the story to the end where Mr. Baker, a man greatly concerned with his street cred, says .....

Earlier this month, Baker conceded that the Muslims probably aren't after his land, but he said he had to go through with the pig races because "I would be like a total idiot if I didn't. I'd be the laughingstock now because I've gone too far."

Craig, Dude, you left Laughingstock on the last train and are headed straight into Embarrassment Junction. Somebody hand him a shovel and he'll oil pretty soon.

Little Mosque on the Prairie

No I'm not making this up. Canadian Broadcasting is doing a program about Muslims living in the Western part of Canada.


It's going to air on Jan. 9 , so far early previews are giving it good buzz.

When I saw the jerk running the pig races next to the Mosque I remembered this and since I get Canadian TV and you guys don't thought you might be interested. I wouldn't be surprised if PBS picks this up like it did the Red Green show. Leave it to the Canadians to diffuse a tense situation with humor.

---

January 1 - Happy New Year!
To start the year off on a sober note, the New York Times has an interesting tribute to the 3,000 Americans who gave their lives for lies.



Welcome to the website formerly known as The World's Most Dangerous Beauty Salon, Inc.

My name is Susan DuQuesnay Bankston.
I live in Richmond, Texas, in heart of Tom DeLay's old district. It's crazy here. No, seriously, it's triple z crazzzy.

I used to be an independent voter, but that all changed when I got to know a few local Republicans. They are meaner than 10 acres of snakes and have the ethical compass of a bank robber.

So, I decided that they could just Kiss My Big Blue Butt.

A lot of what I post here has to do with local politics, but you probably have the same folks in your local government.

This ain't a blog. Blogs are way too trendy for me. I've been doing this since 1992, so I'm used to it even if you ain't.

Email me and I'll find a place to put it if I like it.